"Exhilarating and precarious". Biking around South Africa's "Alex" township (from June 2018)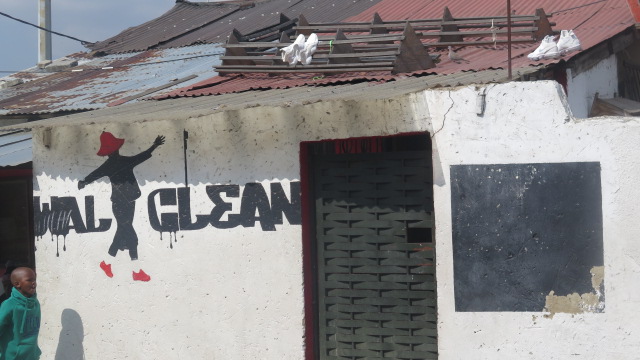 From June 2018
On any given day, on the top of a steel roof of a shack in Alexandra township, in Johannesburg, from roads strewn with garbage and covered in sewage, you can view spotless white sneakers.
"(This is) something we call a deep wash. Seven days of hard labour," says Sandile Gift Duma, the Zulu founder and manager of Walk Clean, who lives in "Alex". Much more than a quick street shoe-shining service, the shop is the only business in the suburb that intensively cleans trainers, according to Duma, drying them in the sun after they've given the footwear their magic touch.
Trainers are part of the uniform in South Africa, especially in the country's townships like Alexandra, where many people are grappling with unemployment, HIV, and more. But Duma's small business, which he began from the home where he grew up with his family nearly four years ago, he boasts is now drawing in customers from other more well-heeled Johannesburg suburbs. The quirky venture is also sparking the attention of local and international visitors, through the only guided bike tour of Alexandra available.
Soweto may be more visited than its counterpart. Alex, which according to a 2011 Census had a population of 798,014 , although statistics are hard to come by. Locals say it could be close to 1.5 million. But Alexandra is even more of a melting pot, according to guide Paul Papa Mbundu or "Papi".
"Most people have this old mentality that Alexandra is the most dangerous place to be, even for black people. They are scared," says Mbundu, 32, from Alexandra.
"(But) we live together. Different cultures, different neighbours, different languages."
As I mount my bike behind a wall covered with vibrant graffiti painted by local artists, I'm standing in front of a small refrigeration and electrical services shop, which Mbundu says is Zimbabwean-owned.
"Actually, they help us a lot in the township because they can do the job, they fix fridges," says Mbundu.
"Mozambicans come and fix the cars here. And we've got some Somalis, they're running some smalls shops."
The township, in north-east Johannesburg, is only about 14km away from the suburb of Sandton, Africa's richest square mile. It's divided into three parts, the "richer part, the middle part, and the poor part", according to Mbundu.
"The richer part is people who made it, who are doctors, lawyers," says Mbundu. "They've got their own businesses, who don't want to move away from Alexandra. They buy beautiful houses, they live here."
As I view a building with a green roof on a hill in the "poor part" — a women's hostel built during the 1960s by the apartheid government to separate men and women in order to reduce birth control, according to Mbundu — I can see that the tour, although only about two kilometres, may be a bit of an uphill battle. Especially for someone like me who hasn't ridden a bike for years.
But then the history of South Africa has of course been tumultuous. And bike is the easiest and best way to interact with locals and see Alex, according to Jeff Mulaudzi, 26, a local who founded Alexandra Bicycle Tours, although his company do offer walking tours.
And, of course, hear. Being a Sunday morning, there is gospel music from church ringing in my ears.
In Alex, it's "impossible" to walk "for five steps without greeting anybody", says Mulaudzi.
In the densely populated area, you cannot live next to someone and not be able to hear what they're doing, saying, or even eating, points out Mulaudzi. According to official figures, there are at least 25,978 per km² in Alex.
"Living in a township you get to network. It's (not) in every place you get to network," he says.
It's from the balcony of a local house offering a glimpse of the entire township and the homes packed in so tightly next to each other, that I understand what he means.
This is one of the tour stops that the guides take all visitor to. Mulaudzi says that the tours, which have attracted visitors particularly from the Netherlands, which he attributes to being a biking nation, plus Sweden, Germany, Norway, England and the US, and South Africa, are "not planned".
At Alexandra High School, which participated in the 1976 Soweto Uprising, I ponder the words on the signs of the pebbled walls in capitals: "think deeply, speak gently, work hard".
Duma is just one example of so many industrious Alex locals.
It was his mother, herself a business person, yelling at him over his dirty sneakers that was the driving force behind him founding Walk Clean.
"It's like a culture. You need to be wearing a nice pair of sneakers," says Duma. "It's a signature walk."
In Alex, people purchase "mostly fake sneakers looking at the unemployment rate we have," says the entrepreneur. But he has recently, for instance, had a real pair of Timberlands come in for cleaning.
"And sneakers get dirty every day, so that's our market," says Duma, a marketing graduate who grew up wearing real Adidas sneakers, and is today wearing a beige pair.
The 31-year-old says he can receive up to 130 pairs of sneakers a day to clean, employing eight locals to clean the shoes using "a lot of tools", including a stone and toothbrush, and chemicals.
"Alexandra is built on special people, people with so much energy," says Mulaudzi, referring to the businessman.
"People (who) if they're given opportunity, they would be the most successful people in the world."
Decades before Duma began washing sneakers for a living from his home, a resident who would become the father of South Africa and one of the world's greatest freedom fighters rented a room in the backyard of a brick home from a businessman.
Nelson Mandela worked as a law clerk and studied while living in Alex, which he later penned in his autobiography Long Walk to Freedom was not only the first place he lived away from his home in South Africa's Eastern Cape province but came to occupy a "treasured place in my heart".
Mandela said "life in Alexandra was exhilarating and precarious. Its atmosphere was alive. Its spirit adventurous, its people resourceful. In spite of the hellish aspects of life in Alexandra, the township was also a kind of heaven".
Just before visitors on the guide have a drink at a local "shebeen" (an unlicensed pub) and a meal — they can choose to have a "braai" (barbeque) or a traditional "kota" sandwich — they make a stop at Mandela's home, now a heritage site.
A gate outside, covered with white hands, has an image of Mandela waving, his famous smile on show, fist pumped high in the air. "Alexandra celebrates your day!" it says in relation to Mandela's birthday on July 18, widely celebrated across the country as "Mandela Day".
"A lot of tourists come to South Africa just to see the wildlife, which is a very positive thing," says Mulaudzi.
But the guide says through Alex they can "understand South Africa".
"Alexandra is not about poverty, as the news says," says Mulaudzi.
"Tourists should come into Alexandra to see how polite people can be."
Filters & Sorting